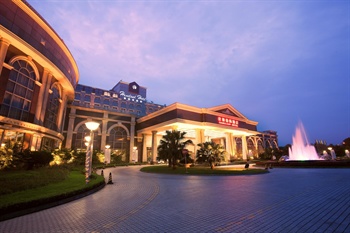 Chengdu's Homeland Hotel (Chengdu Jiayuan Guoji Jiudian) is a garden-style hotel located between the suburban Chengdu High-Tech Development and Airport Development zones, and is about 6 km from Chengdu Airport, making it the airport's closest five star. This Chengdu hotel is also just 10km from downtown Chengdu. Also convenient for guests are naerby local transportation networks. The Exhibition Center, for example, is just a 15-minute drive away.
One of the largest villa resorts in China, the Homeland features executive rooms, deluxe rooms and villas, all of which include international direct-dial phones, internet access and satellite TVs.
This Chengdu hotel's Chinese restaurants serve Sichuan and Cantonese cuisines and are complemented by a Western restaurant and bar serving buffets breakfasts located near the outdoor swimminmg pool. The Gujiacun Restaurant serves up authentic Sichuan-style dishes. Guests can also take in attractive garden views while enjoying their lobby bar drinks.
The hotel's meeting rooms and banquet hall are equipped with advanced audiovisual systems and simultaneous interpretation systems, making the hotel a preferred venue for business functions. In addition, with six romantic wedding theme areas, this Chengdu hotel is also a popular place for hosting beautiful wedding ceremonies. With a wide range of facilities, the Homeland can cater to groups private 30-person family events to 1, 000-person banquets.
In terms of recreation, guests enjoy access to the hotel golf course, fitness center, outdoor tennis courts, bowling alley, 1, 200-square meter outdoor swimming pool, squash, billiards room, hot spring spa center, chess, cards, karaoke and children's playground.